With maximum heating temperature of 300˚C, it can harden thermoset / thermoplastic composite material.
As laboratory dedicated OVEN, pressure device (air pressure), the cooling unit (water / air), a vacuum device are attached, they can make the test inside of oven easier.
We can record and save the states of pressure temperature vacuum cooling of all devices.
To insert temperature sensor and device, double outlet is installed inside.
To insert heavy device such as molding inside of oven, it is manufactured firmly.
It is composite material dedicated hardening oven of which various conveniences are applied based on long experience of composite material development.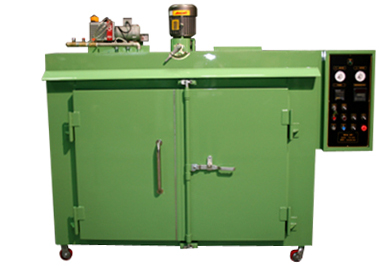 Internal size
1000 X 1000 X 1200(mm)
electric capacity
50kw
max temperature
300℃
motor capacity
2Hp
temperature control system
PID control system
vacuum unit
1Hp
pneumatic use
7bar
cooling source
Water/Air
equipment weight
1000Kg
Electrical Specifications
3P/380V